As usual the story starts with a bus journey, this one being an eight hour trip from Thung Chang to Chiang Mai. Marco, the Italian owner of the bungalows gave me a ride down to the bus stop at 6.30am, which was nice of him. The early morning bus was first class only but came with a free pack of coconut oreos!
Chiang Mai's arcade bus station is at the end of the "super highway" and a bit out of town so I switched to a songthaew. These shared-taxis are painted red and there are over 2000 in town to form a bus system of sorts. The first person to get in usually gets to say where they're going and everyone that flags it down after that has to hope they're going in the same direction (if not, you try the next one). There are some main routes like from the bus station to town though, so there was a bit of a wait while the driver rounded up enough people.
Some of the ancient cities defensive walls still exist around the corners of the old town and the four gates which give you a small idea of how the city would have looked back in the late 1200's when it was built. Outside of the walls a mostly-intact moat looks pretty when it's lit up at night. Side note on moats: great for ancient defence, not so much for traffic congestion.
Taking a walk down a side street, or soi, is a good way to see local houses, restaurants and shops. Unfortunatlly the main roads are full of the worst that westerners bring to a place: American diners (Elvis-themed no less), Irish pubs and a ridiculous number of travel agencies, all offering the sought-after "non-tourist" tour.
There is plenty to see and do and visiting Wat Phrathat Doi Suthep is one of the most popular. The temple looks down on Chiang Mai and can be seen from all over town and it's even more impressive up-close. Unsurprisingly of course it was packed and while it was worth the visit, the fixed-price songthaew to get there, the double-pricing for forigners, and the snap-happy visiters all at a place of worship wore thin.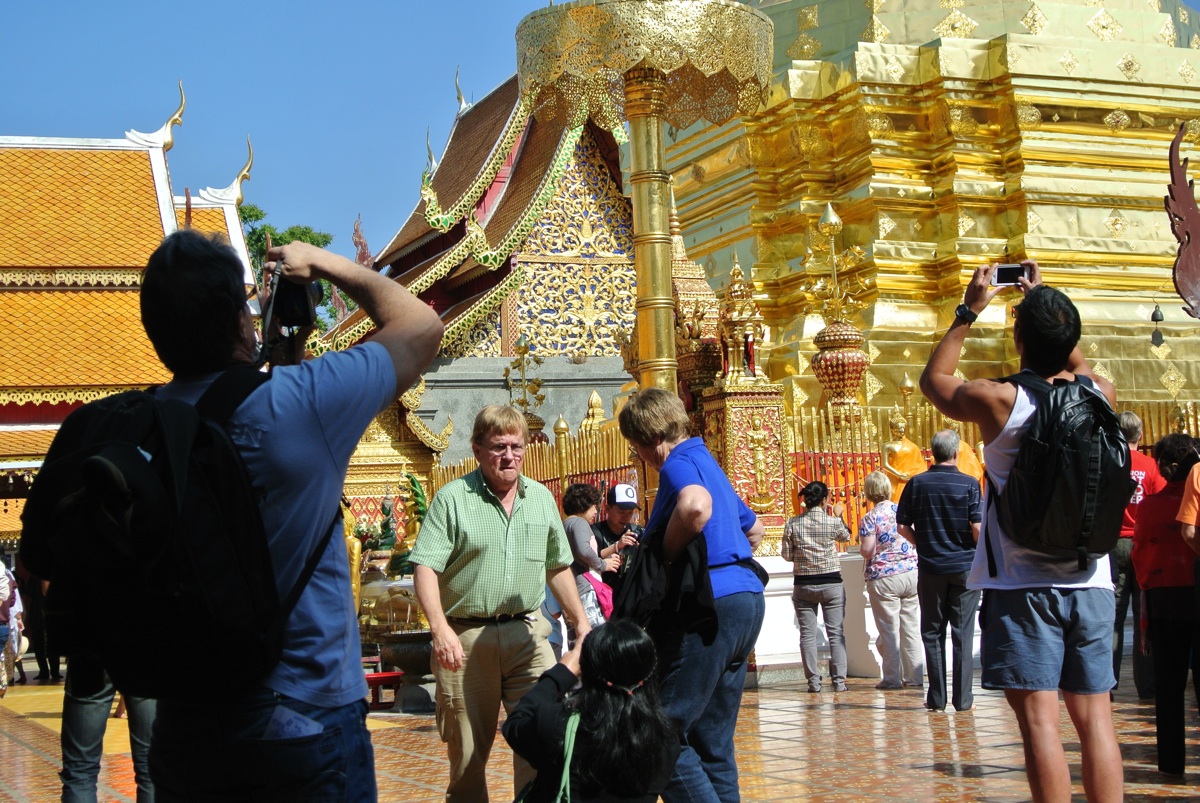 Say cheese
It's not all bad though. The small Chinatown area is great to walk around with all the packed sidestreets (sorry, sois), food stalls and markets that you'd expect from any good Chinatown. The Worarot market in particular is great. From the outside it's as large as a shop front but venture in and it's a large four-story market.
The Sunday market is well worth a visit too. It's over a kilometer long and besides the expected tourist tat theres a massive selection of food. The food is great, though you won't feel that good after eating a mix of noodles, pork, sushi, spring rolls, fruit and cake. Not that I'm speaking from experience.
And of course there is the Muay Thai, Thailand's national sport. There are three stadiums in Chiang Mai and touts are all over town with fliers every day. I picked the smallest stadium that has fights just two nights a week (not every night like the others) and went on a Friday. The seated crowd were all westerners, but the standing crowd were local, passionate and vocal; probably due in good part to the beer and gambling. The first few matches were kids from a local club (ahem, fight club), but the last couple of matches were more serious. The whole event costs about £7 and lasts over three hours.
So my thoughts on Chiang Mai are mixed. It's a very pretty town in parts with plenty to see and do. On the other hand it has caved completly to mass tourism. It provides a way to see some of Thailand while having all the home comforts but that means loosing some of the culture which makes it interesting in the first place.
Chiang Mai is much bigger than just the old town though, but I'll cover that separately.
More photos from Chiang Mai on Flickr.