From Adelaide I headed north on The Ghan, one of the two famous coast-to-coast railways in Australia. I'd been looking forward to the journey for a while and the views were as good as I hoped, particularly sunrise over the outback. It also helps to get a sense of how big the country is when it takes almost 26 hours to travel from the coast to the centre.
A ticket for The Ghan costs £170 for a "day/night seat" with beds and cabins costing significantly more. While the journey is a good one I'm really not convinced it's worth the money.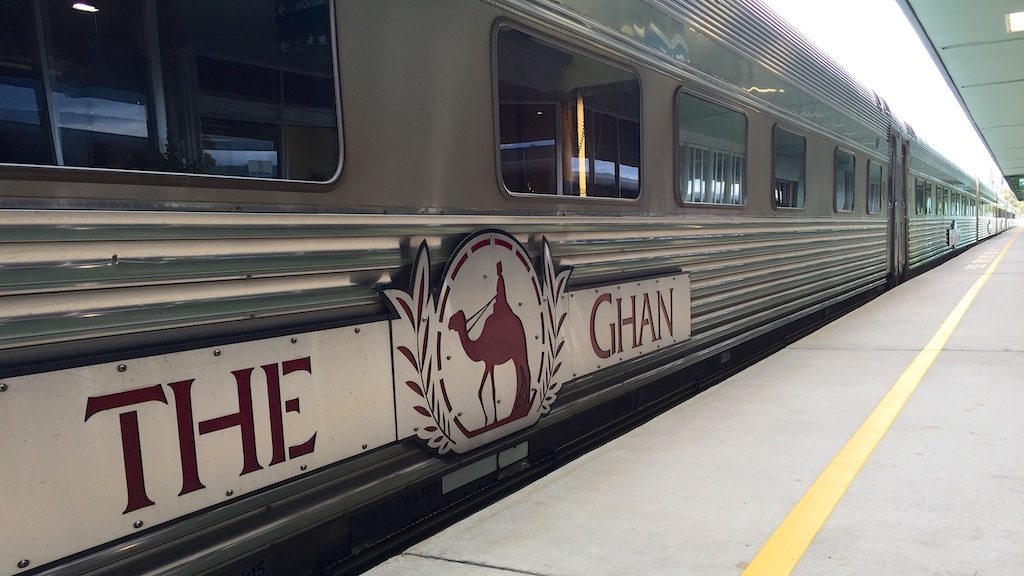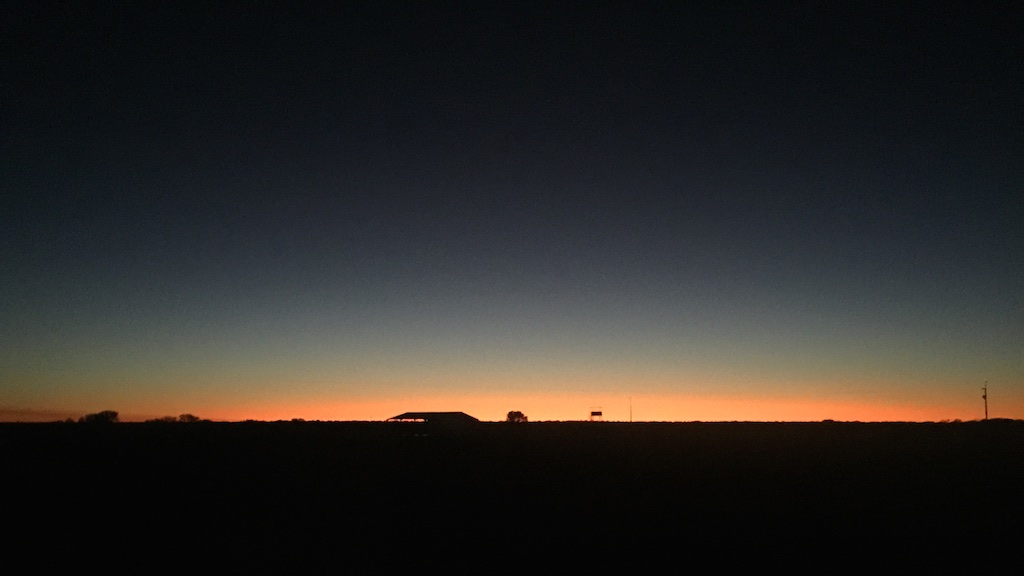 I left the train in Alice Springs and explored the town for just a couple of nights. A 45 minute walk from town is the original European settlement, the first in Central Australia, where the buildings have been restored to their former state. Of particular interest is the telegraph station, essentially the whole purpose of the settlement when it was established.
The telegraph line built across the country eventually linked Sydney to London, reducing the time for messages from the UK to the colony from weeks or months to just hours. A short walk from the telegraph station is Trig Hill which has great views over the surrounding area.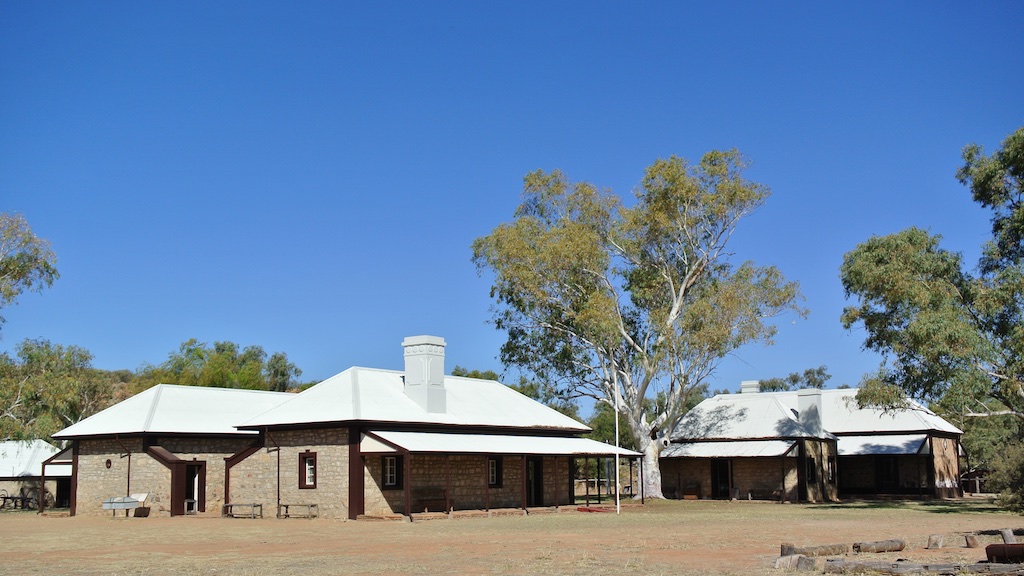 Back in the main town I visited the Royal Flying Doctor Service headquarters. The staff gave an overview of their work and there was a mini documentary on how it was established. While I knew a little about the RFDS I didn't realise the size of the operation with over 60 planes in its fleet. They don't just deal with emergencies either, an example shown was transporting a patient for an organ transplant when a donor had been found in another state.
Something else worth mentioning about Alice Springs are the number of aborigines sleeping rough, suffering from alcoholism and on a couple of occasions, hassling me and other tourists for money. The relationship between aborigines and the rest of Australia is too complex for me to fully understand let alone explain. There are charities working to find work for the "traditional owners" and in Alice Springs in particular there are several art galleries selling aboriginal paintings, didgeridoos and the like.
I was picked up from Alice Springs around 5:30am to start my four day outback tour. It's easy to visit independently but for solo travellers (and essentially anyone without a car) it works out far cheaper to join a tour. Unlike standard tours though where everything is planned and rigid, our guide Chris was far more flexible.
The outback tours are also quite hands on; with just one guide the group is expected to help out with collecting firewood, setting up camp, cooking, washing and packing up again. This was really enjoyable and helped the group get to know each other, but it's disappointing that very few tour companies tell you this when booking. There was at least a couple of people on our tour that didn't look thrilled about collecting wood or washing dishes on their holiday.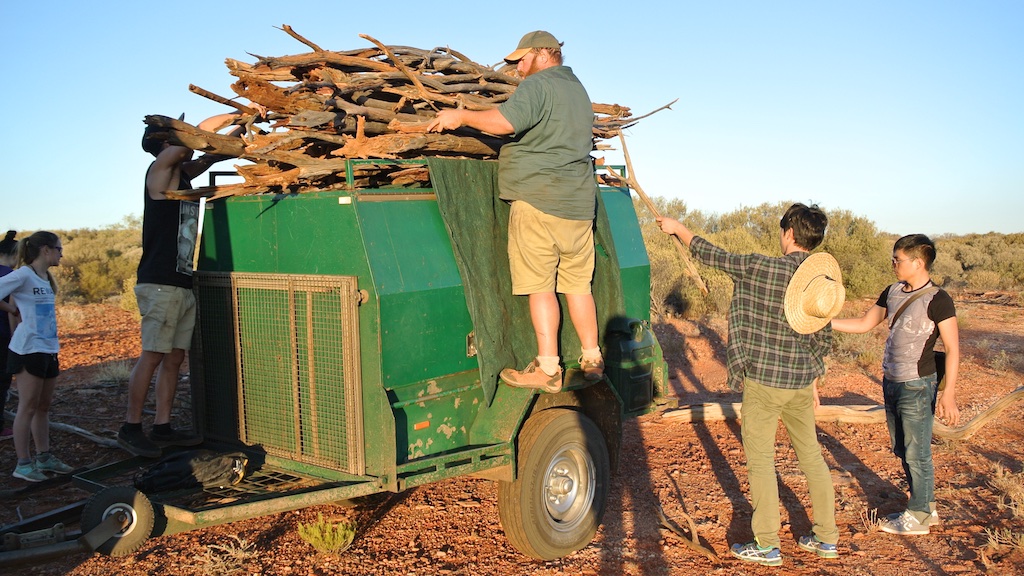 From Alice Springs we travelled six hours to Yulara, the small town just outside of Uluru-Kata Tjuta national park. We made a quick stop at the airport to pick up some more people which took our group up to 12.
From there we made our way to Uluru and did a base walk around half of the rock. Though it looks smooth from a distance it's very different up close, with huge pitted sections, changes in texture and in some sections there are caves where you can see drawings on the walls.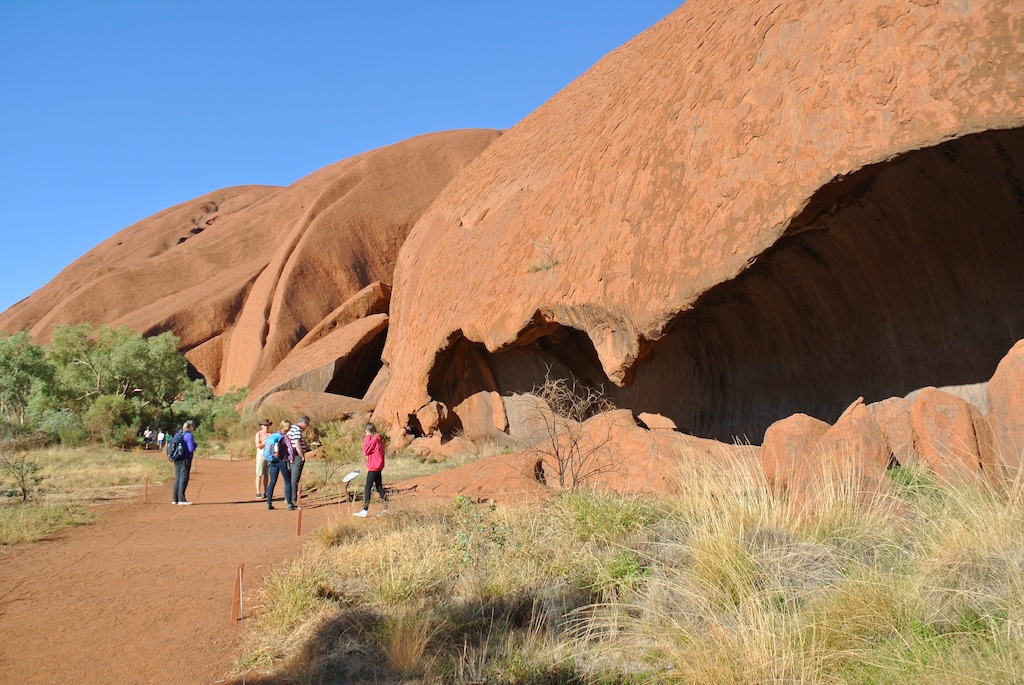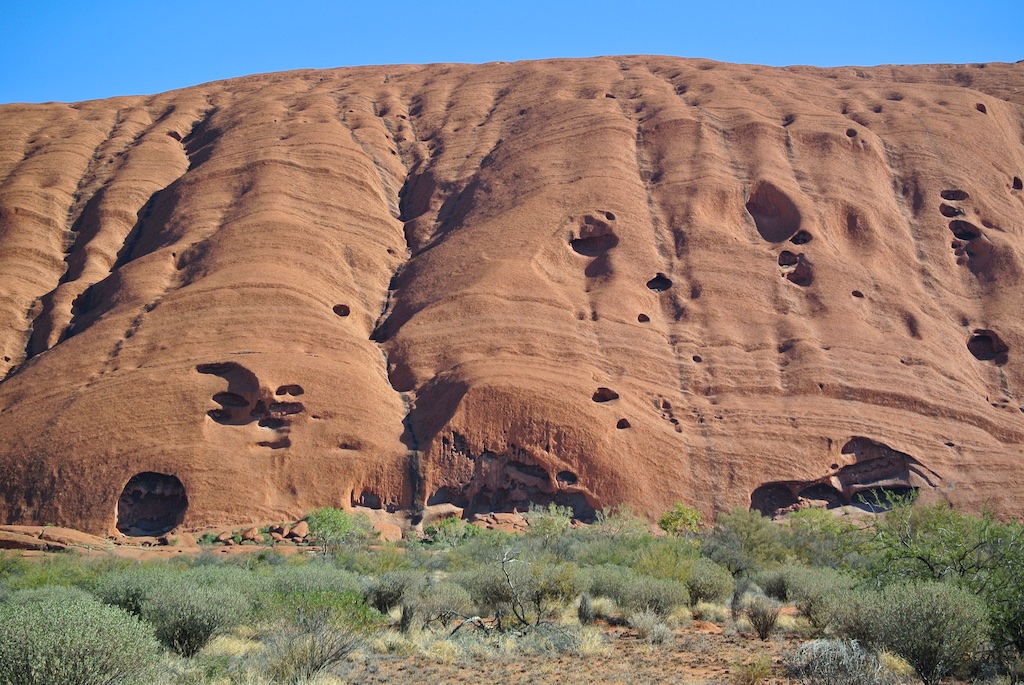 Aborigines were settled around the base of Uluru up to 20,000 years ago, typically in small groups to preserve the limited resources available to them. There are aboriginal stories to explain the various scars and pitting on the rock which our guide Chris shared with us, however these are known as the children's stories. The adult stories are not told to non-aborigines and visitors are asked not to photograph several sections of the rock which are sacred and relate to these stories. While I've no issue with respecting other people's beliefs (within reason anyway) it's quite difficult when they don't share what their beliefs are.
From the base walk we headed to watch the sunset. What's odd is that you don't watch the sun setting behind Uluru as you'd expect, instead you watch Uluru while the sun sets behind you. The reason being as it gets darker the colour of Uluru changes giving the deep red colour that it's known for.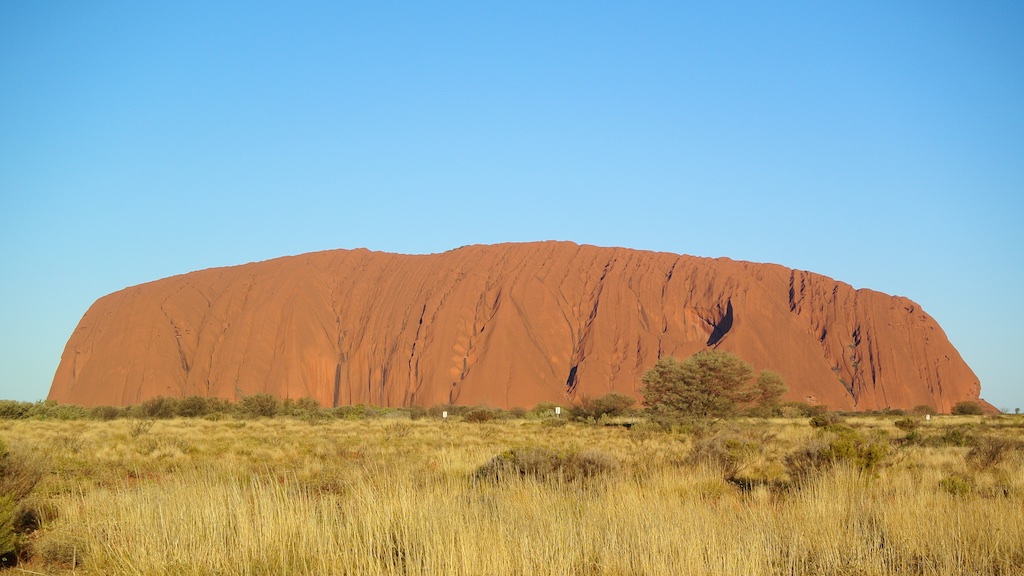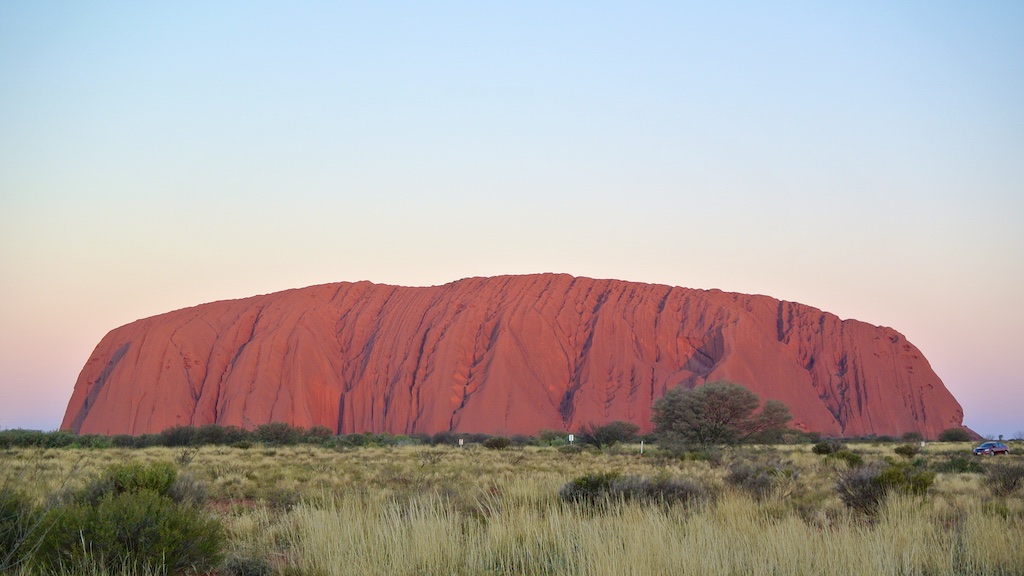 That night we setup camp in Yulara and cooked together as a group - kangaroo steaks and camel burgers. After dinner we each took a swag, a canvas bag with a foam mattress inside, and rolled it out around a fire. It's Australian winter in August and temperatures at night dropped to around 0°C, but with a jumper, sleeping bag, swag and a fire three feet away I managed to sleep comfortably.
Back in the UK camping is probably the last thing I would end up doing. But sleeping outside under an amazing night sky is a different experience entirely.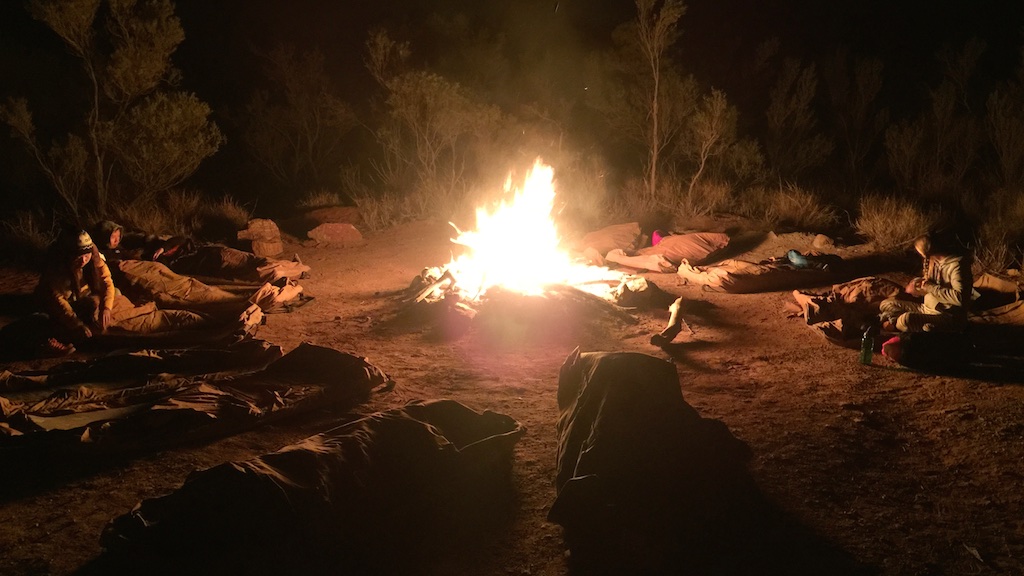 The following morning we went to watch sunrise at Uluru and then headed to Kata Tjuta, otherwise known as The Olgas. Like Uluru it was an ancient seabed which afer being subject to huge forces tilted 90 degrees (like an iceberg, we only see the tip of Uluru above ground). Unlike Uluru however, Kata Tjuta fractured during the tilting and valleys formed between the rocks. While Uluru is special and remains the most recognised, Kata Tjuta is arguably far more impressive.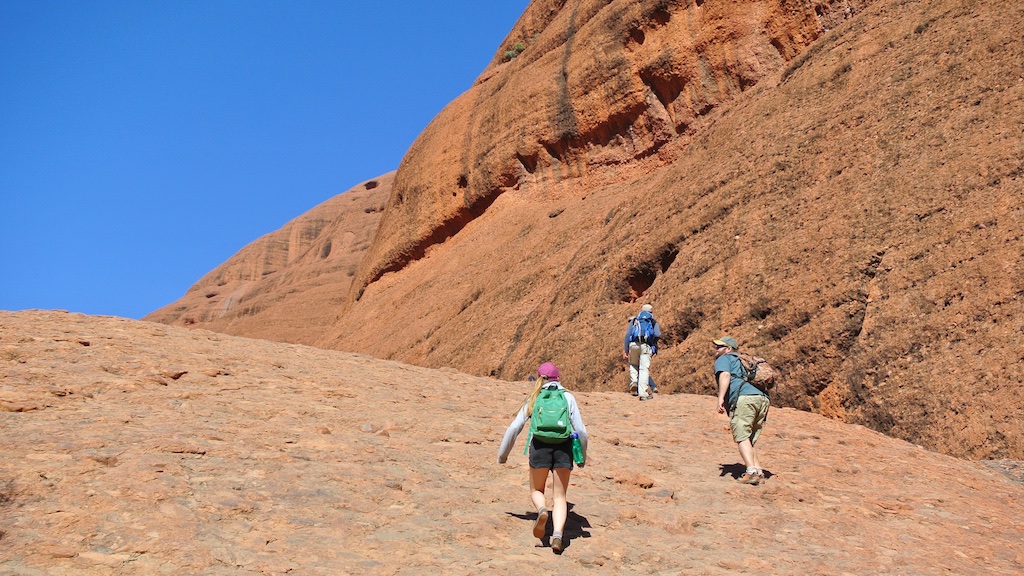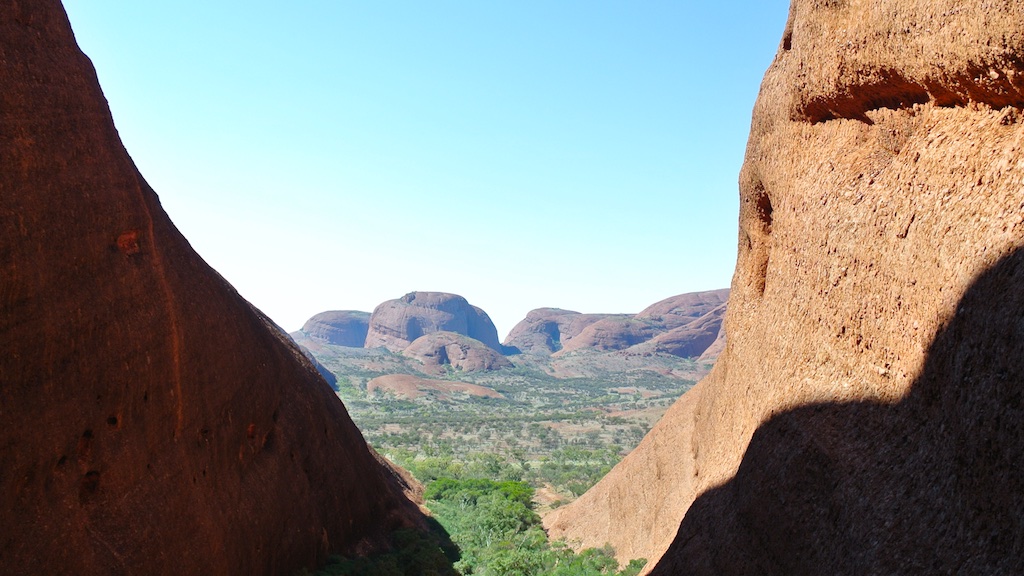 Being on a four day tour we didn't have time to walk the full Valley of the Winds track but we did take in the main sights. In the afternoon we drove over to Kings Creek about six hours away. We setup camp here, again sleeping in swags under the stars.
The following morning we drove a short distance to Kings Canyon which if anything is even more impressive than The Olgas. The walk took around three hours and the scenery was just stunning. Interesting too was the kind of time that it took the canyon to form, over millions of years. At one point there was a part of a cliff face that had fallen away "recently, about 70,000 years ago".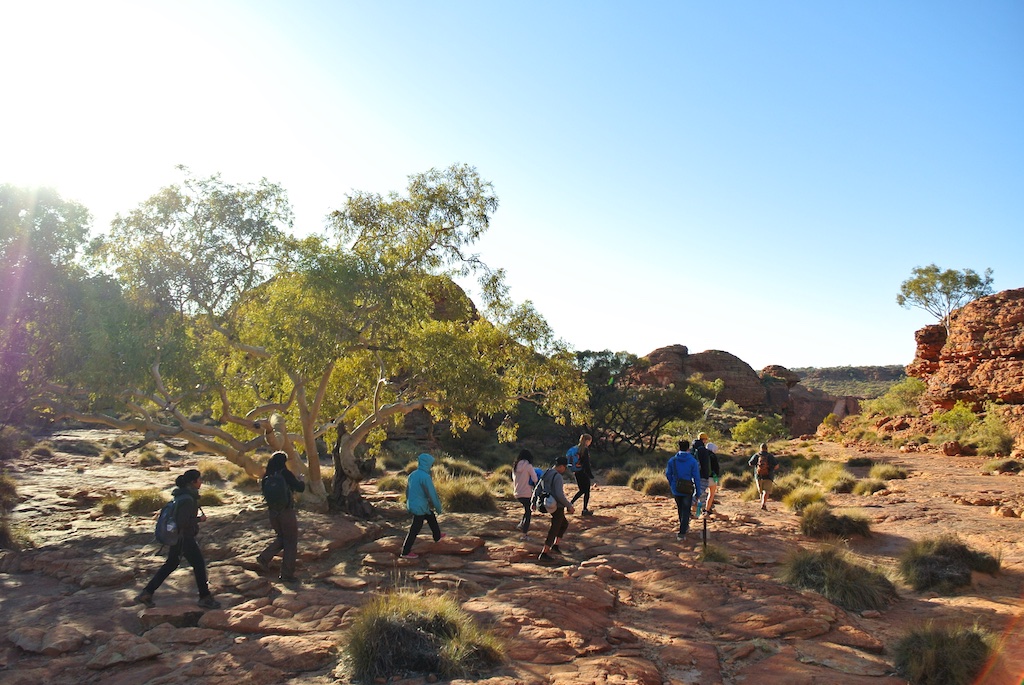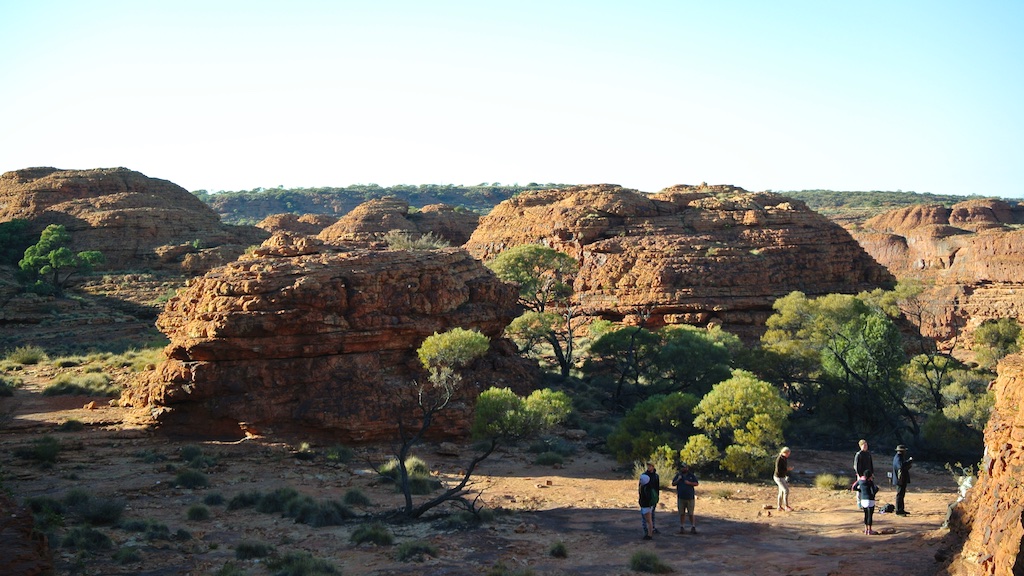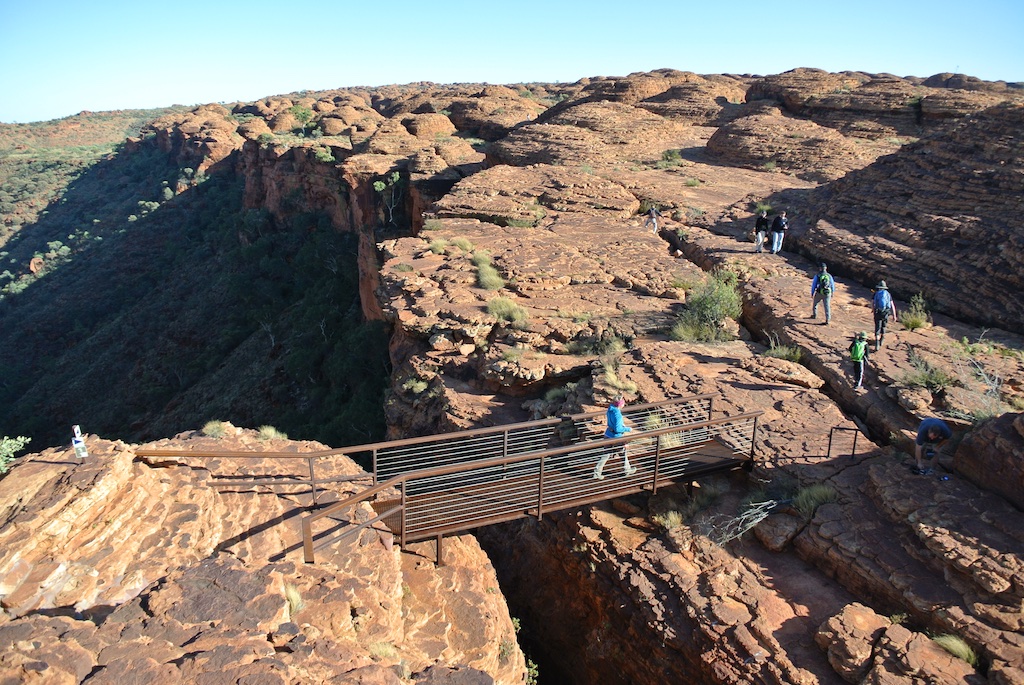 After the walk we headed back to our Kings Creek camp and said goodbye to four of the group that were on a shorter tour. The rest of us carried on to Curtain Springs, a cattle station covering an area of around 4,000km²! They have some motel rooms and a campsite but we continued past the main area for a couple of kilometers to our bush camp for the evening.
Our camps for the previous two nights had a toilet and shower block but this was a bit more basic, with just a shipping container (containing some equipment and the swags) and some shelter out in the bush. Like previous nights though the night sky was stunning. We also had some dingos visit us during the night but they were more interested in scraps of food than us.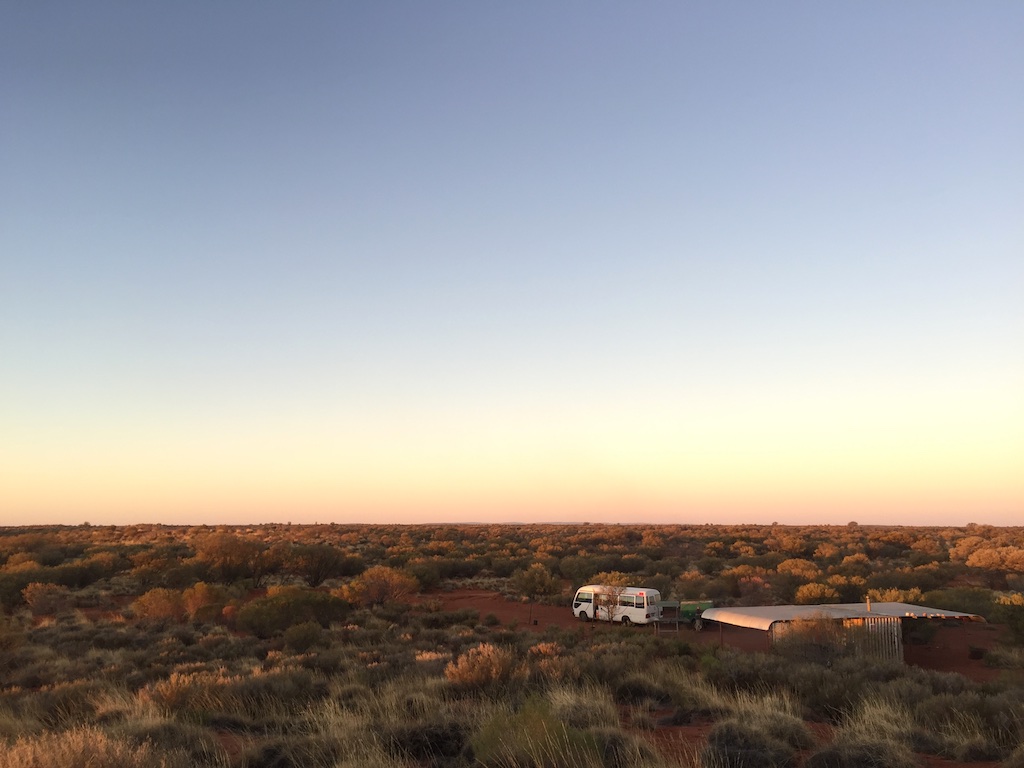 The following morning, now the fourth day, we slept in a little and then made our way back to Yulara to be dropped off at the airport.
I'm usually quite understated when it comes to travel experiences but for me the outback tour was really something special and I can't recommend it enough. It's chance to take a tour to somewhere very touristed but have a totally new experience.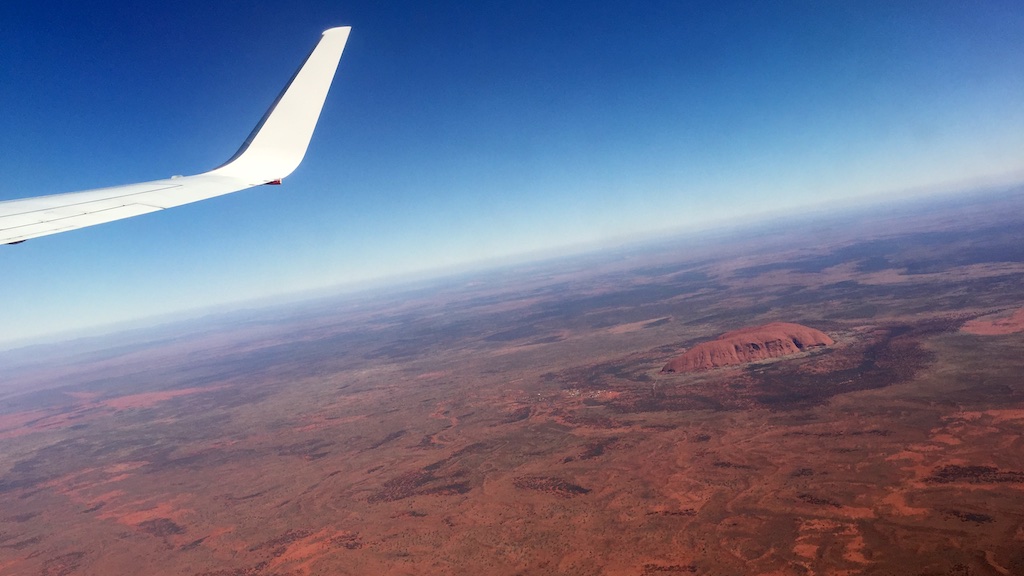 ---