After a quick tour through western and central Java I headed to the east to see Bromo Tengger Semeru National Park, generally just called Bromo by travellers and tour agencies.
There are many tours to Bromo from Jogja where I was last, but these are very rushed and involve a 12-hour minibus, less than half a day around Bromo itself and then a 9-hour bus the following day to catch the ferry to Bali. With that not sounding very appealing I decided to head there by myself.
From Jogja I took an 8-hour train in a comfortable eksekutif class seat to Malang where I stopped for the night. I had enough time to explore some of the town in the afternoon and evening and found it to be quite relaxed compared to the other places I'd visited in Java. The alun-alun was very lively in the evening with lots of people relaxing with friends around the central fountain.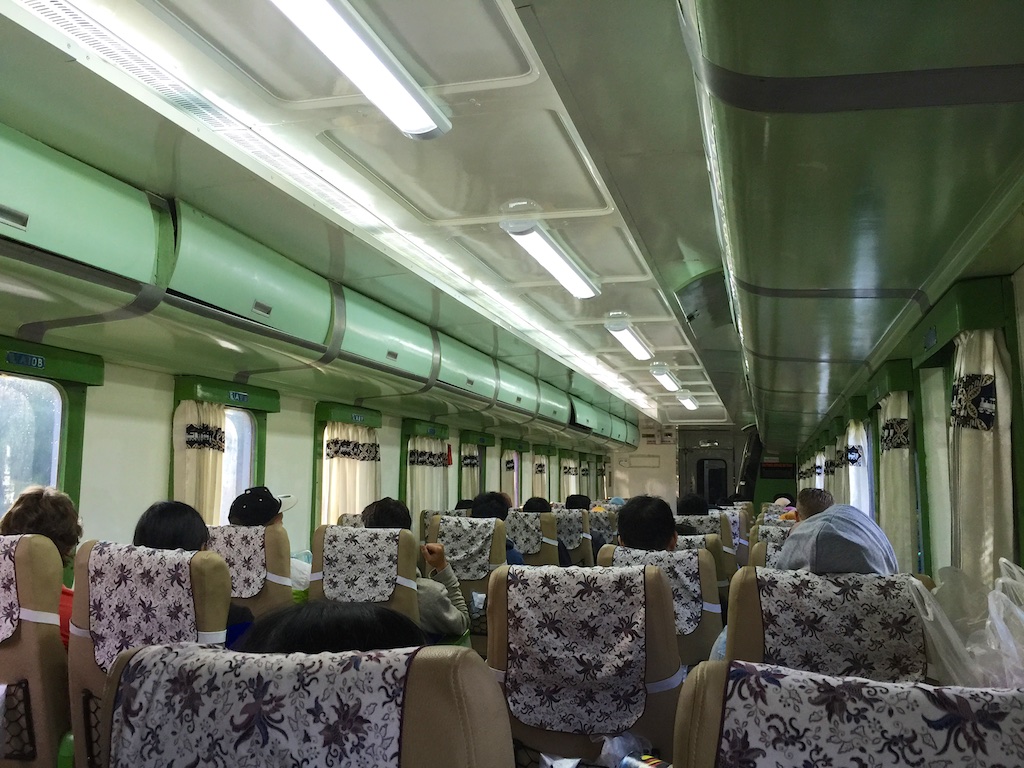 Train to Malang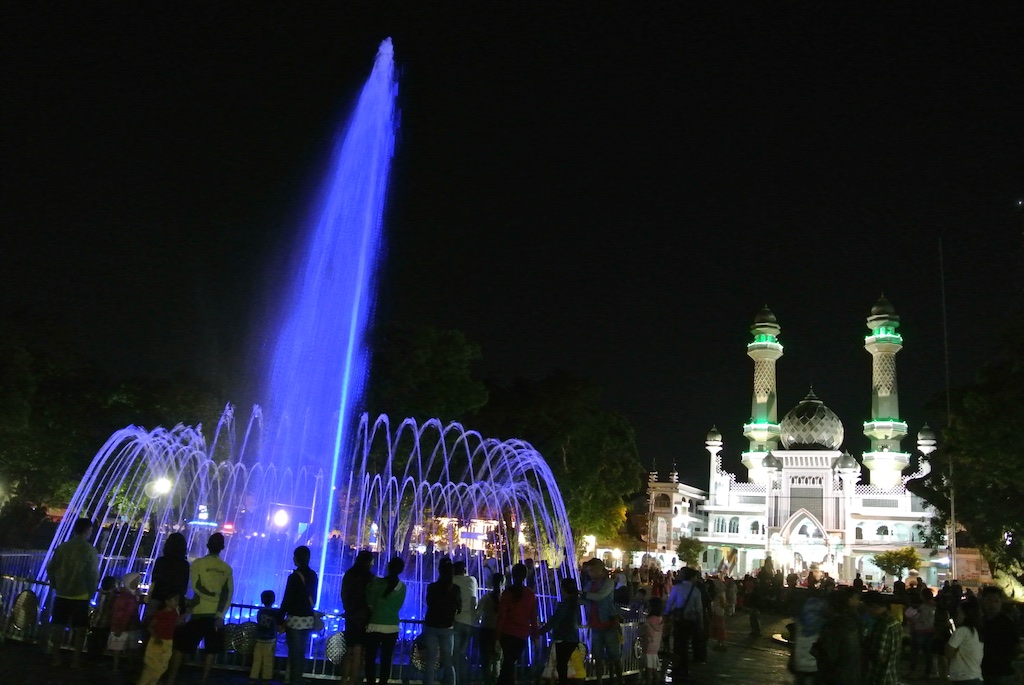 Malang alun-alun
The following day I took two angkots for about as many hours to the town of Tumpang where I haggled for an ojek, a motorbike taxi. After finding one for a reasonable rate and embarrassingly trying three different helmets until finding one that fit my head, we set off.
The first hour passed uneventfully driving gradually uphill on sealed roads through a few small towns and villages before stopping for a ticket at the edge of the national park. The roads from here got progressively worse, unsealed (luckily it hadn't rained for a while) and very bumpy. The one upside of this route is that you get to pass the Bromo savanna which you miss completely when taking the bus on the better roads. It really is a great sight and we took a quick rest stop here.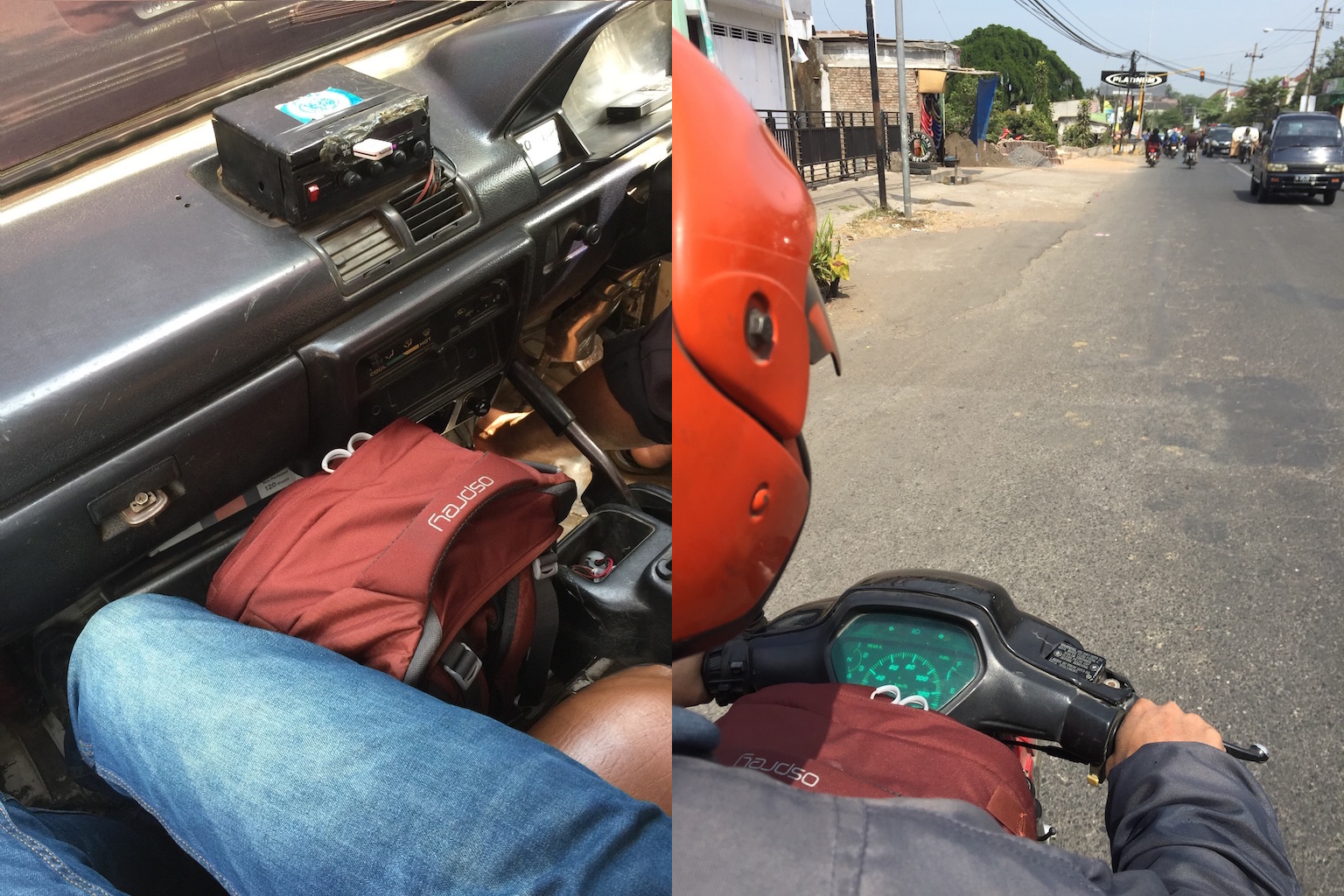 Angkot to Tumpang (left), motorbike to Bromo (right)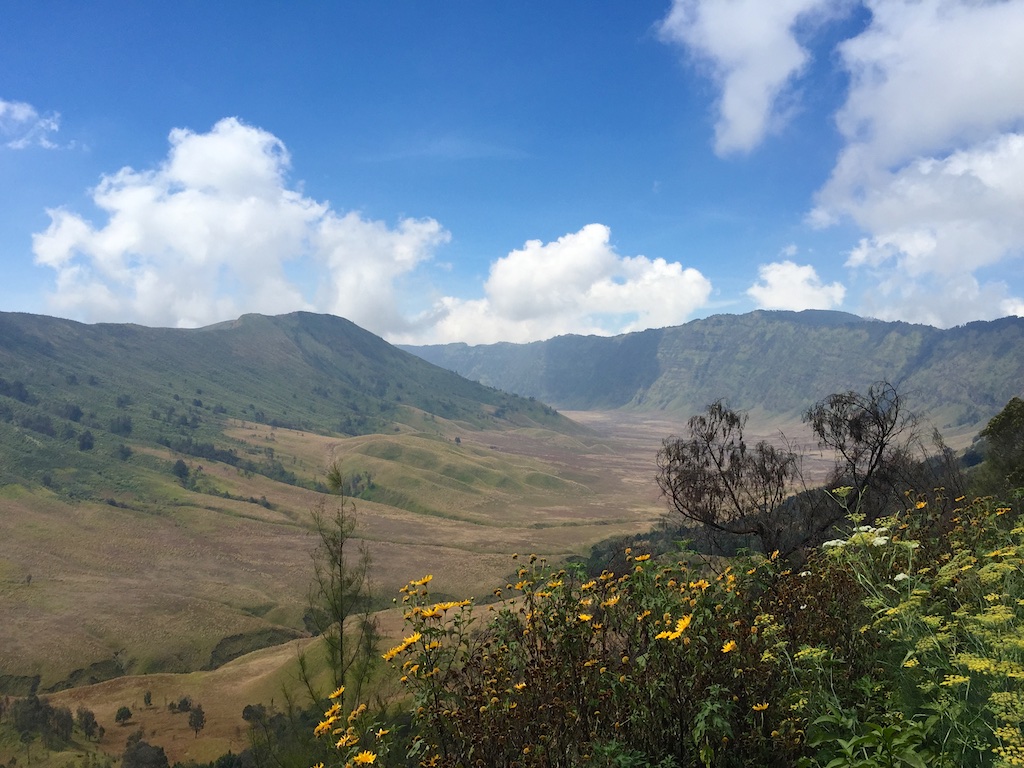 Bromo savanna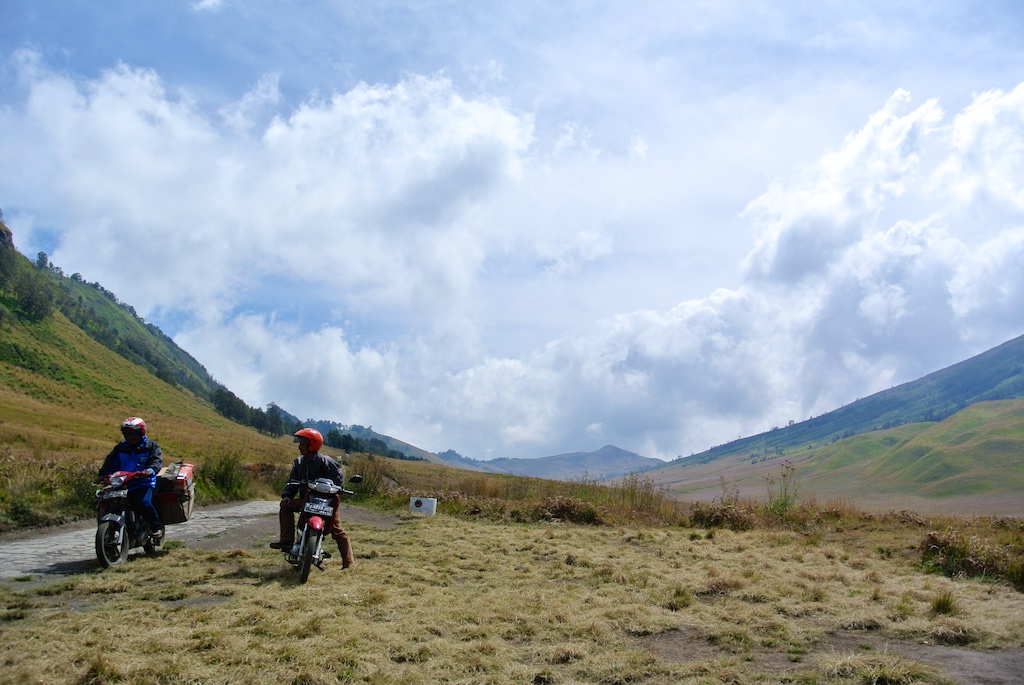 Not long after looking down on the savanna we entered the sea of sand. It was maybe only 10km before we reached a sealed road again but it took almost an hour with the bike constantly getting stuck in the sand. The rear end of the bike was sliding around a lot and while the views are incredible, I'd say paying the extra money for one of the jeeps servicing the route is well worth it.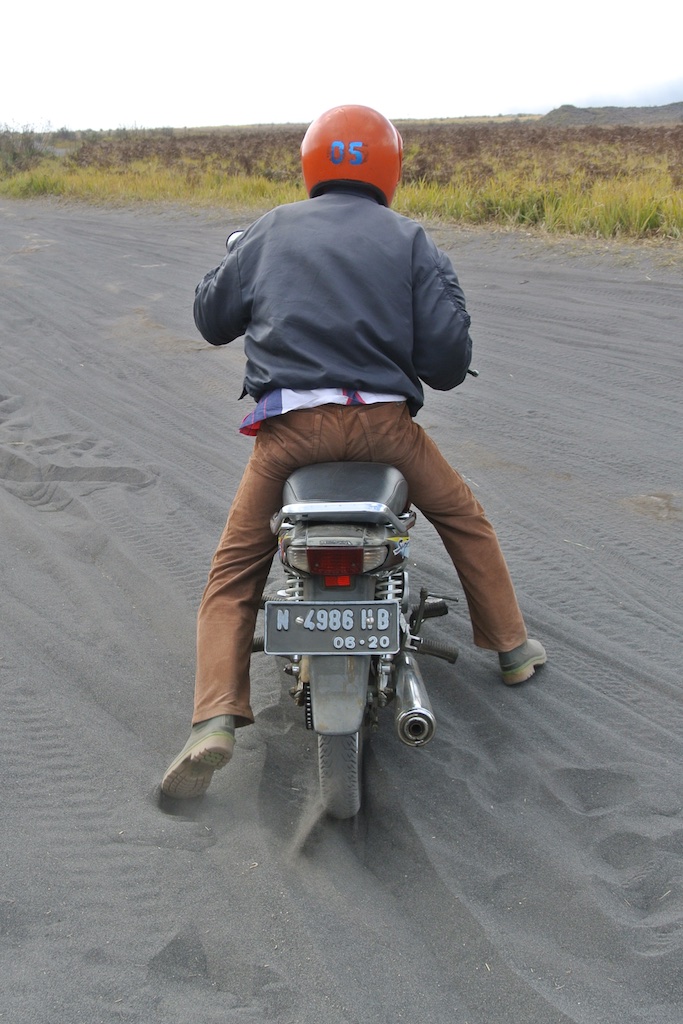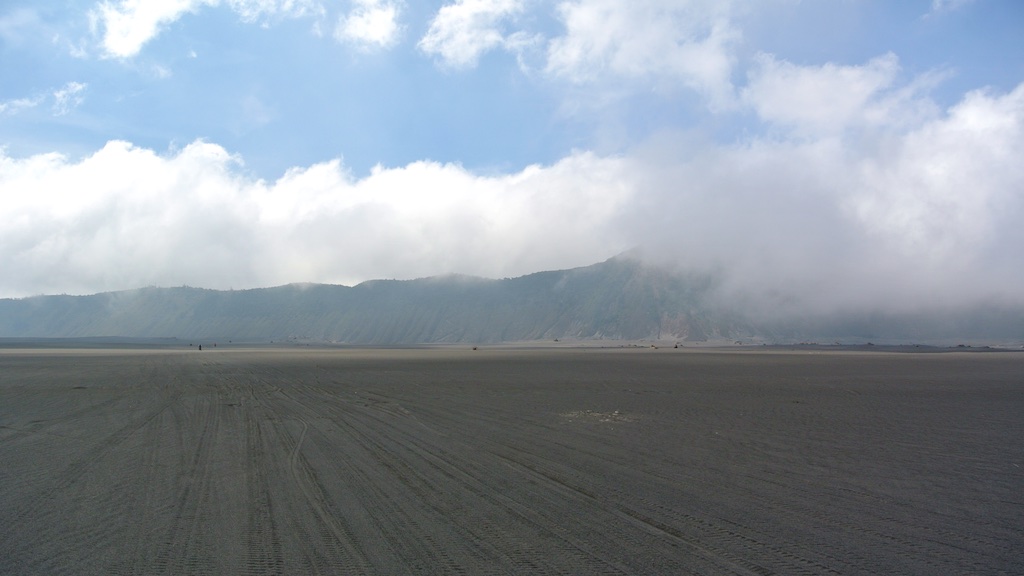 The sea of sand
Eventually we reached a sealed road and arrived in the small town of Cemoro Lawang a few minutes later. It's just a small place with a few restaurants, home stays and shops all renting coats, hats and scarves to backpackers turning up in jeans and a t-shirt (myself included).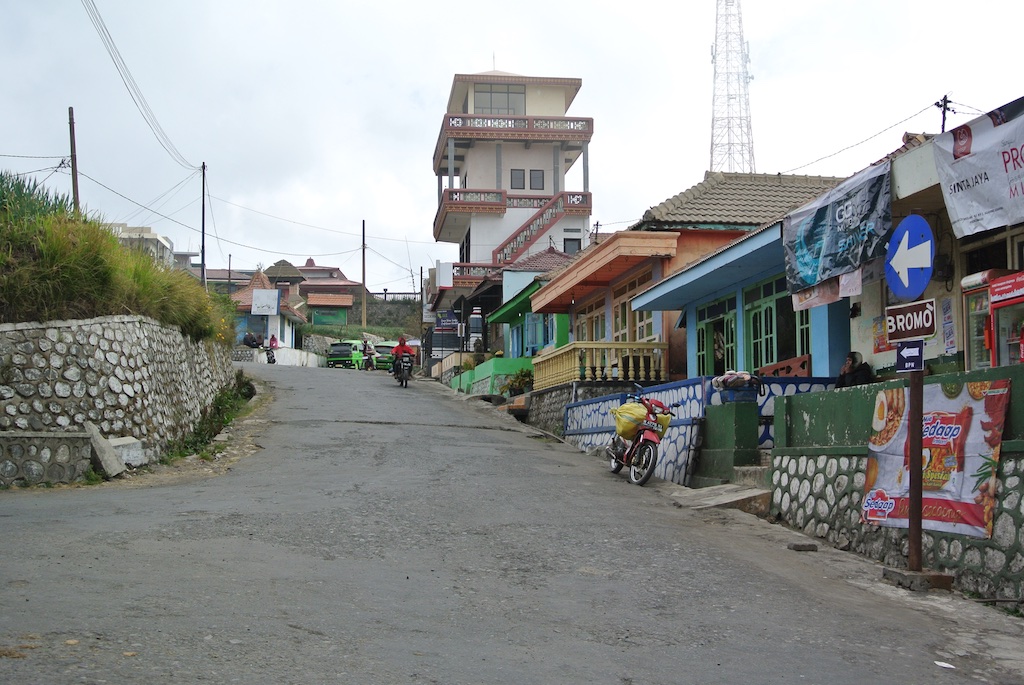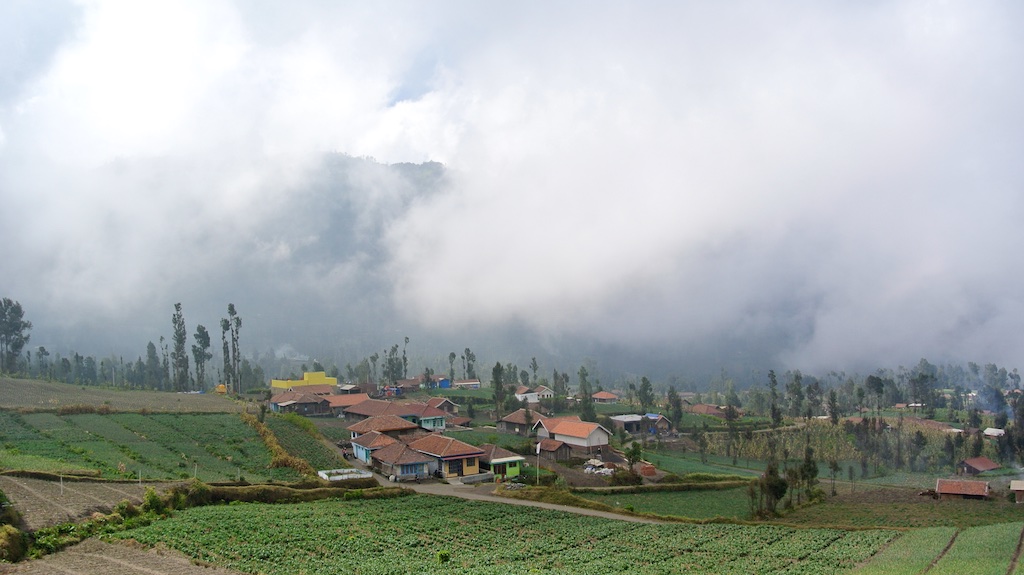 Cemoro Lawang and surroundings
I'd arranged an ojek driver to take me to Mt Penanjakan the following morning who came and knocked on the door at 3am. The journey took around 30 minutes and once again crossed the sea of sand, the bike sliding around as it had the day earlier, except this time it was completely dark out. The lights of the jeep in front of us indicated where the road was and as we started to ascend the mountain road, I looked over my shoulder to see a trail of headlights right back to Cemoro Lawang.
My main concern of watching sunrise at Bromo would be the number of tourists at the viewpoint. I'd told Johnny the ojek driver about this and after we parked up with around 15 jeeps and followed a footpath with many other people, he broke away and took an unmarked path uphill for around 10 minutes. The viewpoint at the top was blocked a little by trees but otherwise good, and we were joined by a couple shortly after but nobody else. The four of us waited for over an hour in near silence.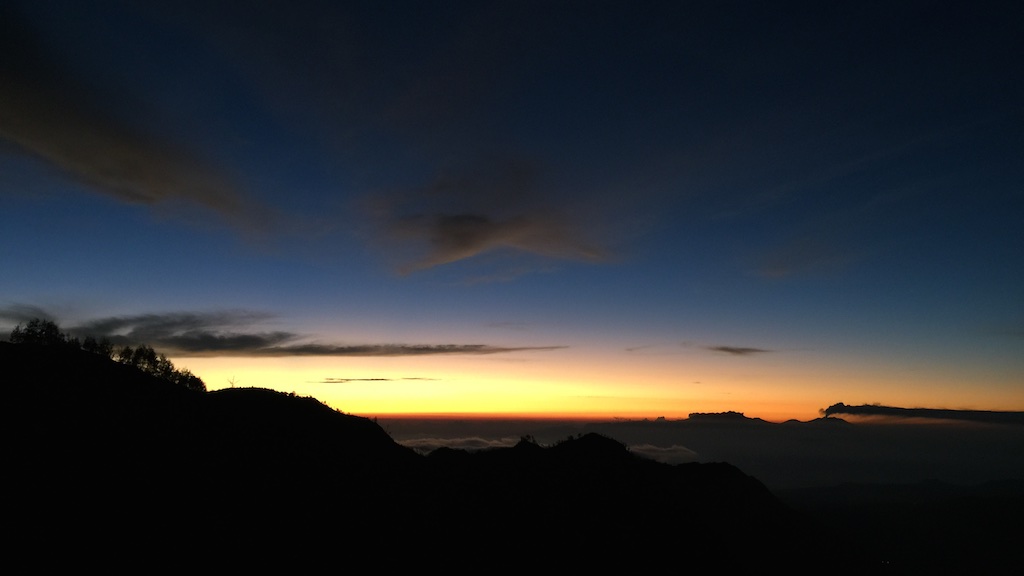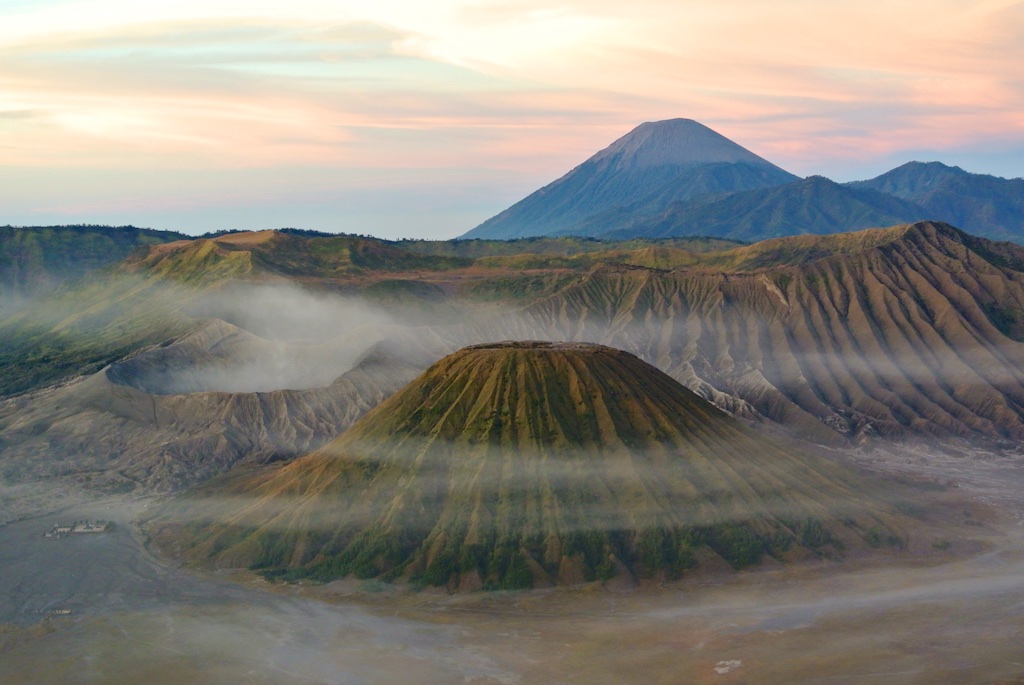 Mt Bromo (collapsed, left), Mt Batok (front), Mt Semeru (rear)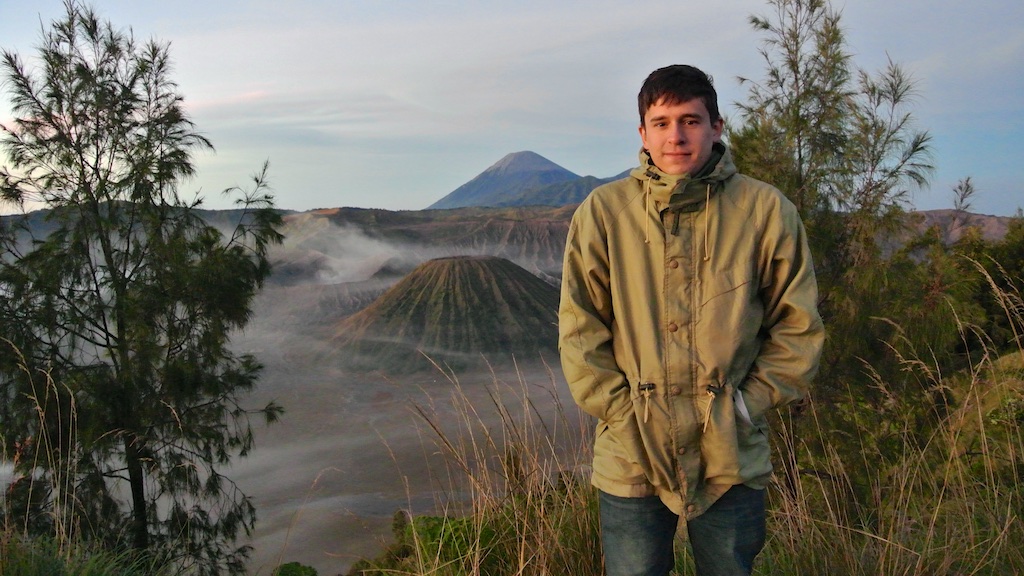 Finally sunrise came and Bromo and the surroundings were slowly illuminated with the morning fog making it more dramatic. It was great to watch from this little viewpoint with only a few other people around. After a while we walked down to meet the footpath then followed it to the main viewpoint and the atmosphere was very different. There was at least 70 people, three stalls selling drinks and trinkets and it was quite noisy as people clambered in front of each other to take Bromo selfies. Had this been my experience of Bromo after a 12-hour bus ride the day earlier I'd have probably been disappointed with the whole thing.
Shortly after we left for Bromo itself. It's a short walk from the drop off to the base, though plenty of tourists feel it's necessary to take a horse. Reaching the base there's a huge set of stairs which lead right to the crater rim. Having visited Mt Tangkuban Perahu just a week earlier I thought I knew what to expect but Bromo was far more dramatic. From the rim it isn't possible to see to the bottom of the crater, there's just a huge hole and steam pours out. There's the familiar smell of sulphur but it wasn't as strong as expected.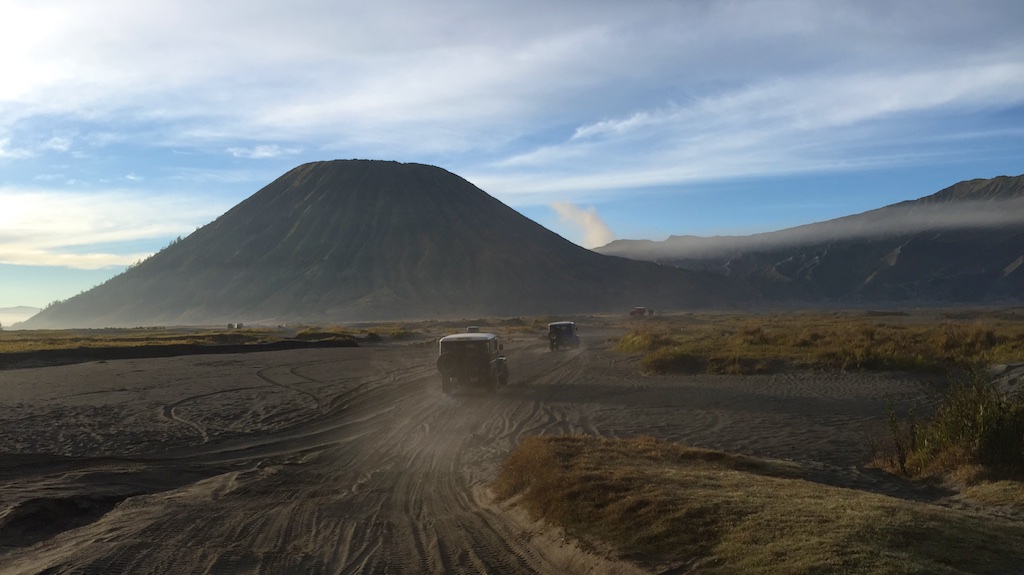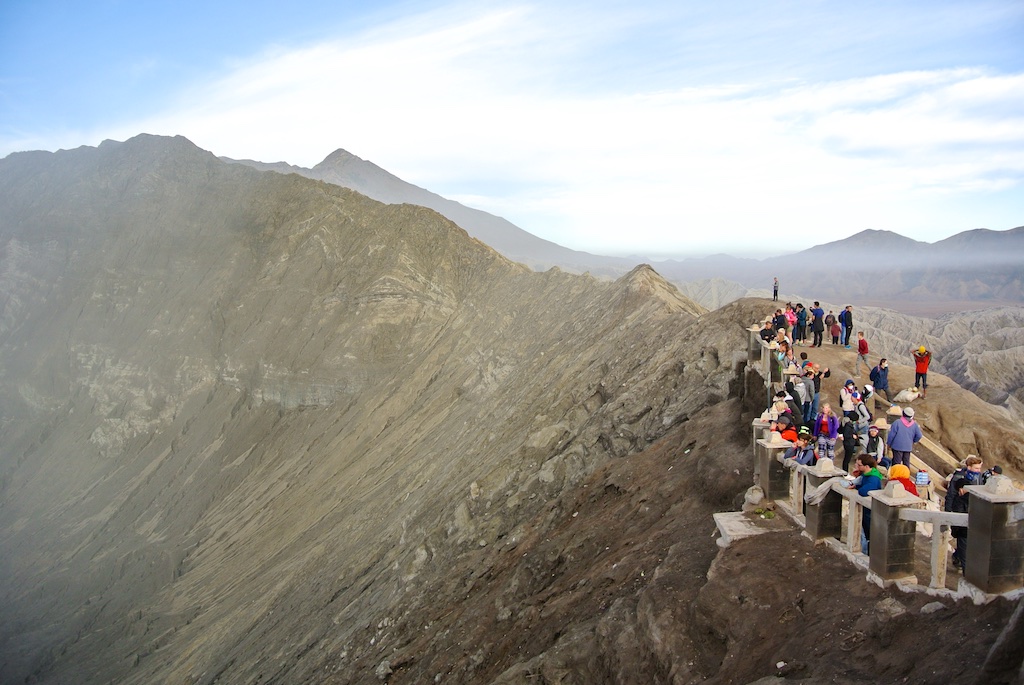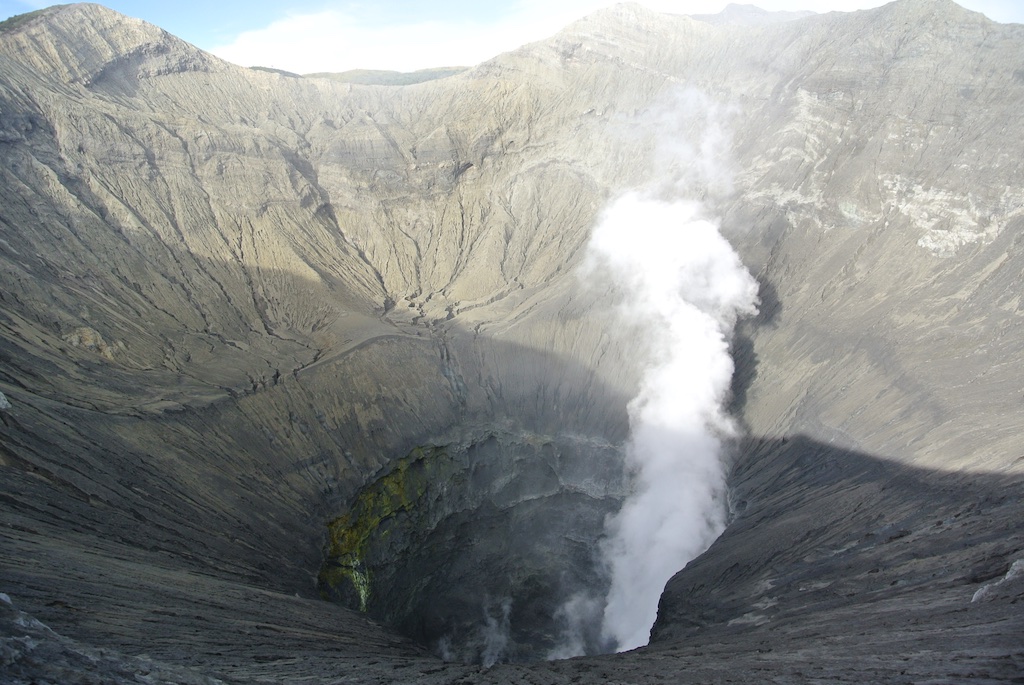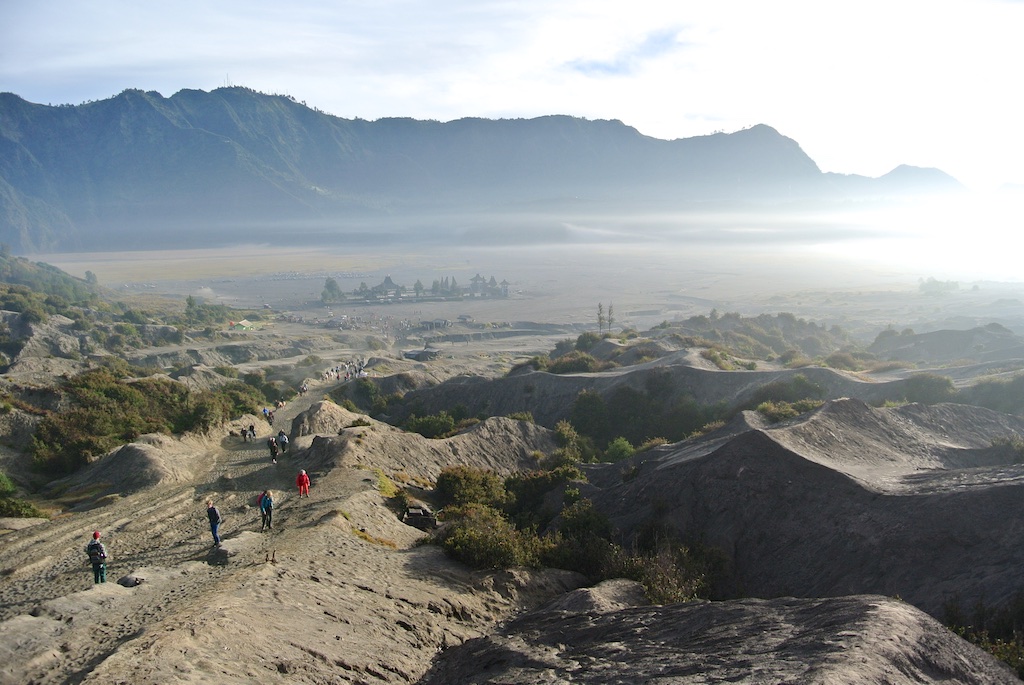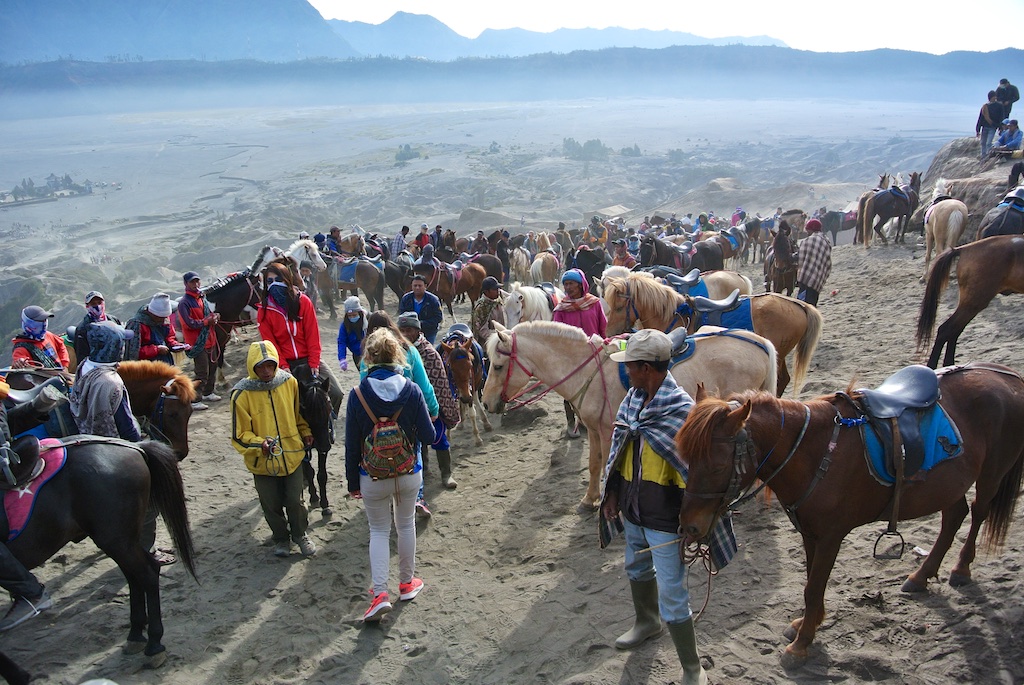 After walking around the rim for a while I eventually made my way down, the benefit of not being on a tour was that I could spend as long as I wanted. Johnny took me back across the sea of sand and I caught a bus out of Cemoro Lawang, ending my short time at Bromo.
---